We love our sponsors and we sure did have some wonderful ones this month! Ethan and I encourage you to check out these great shops, products and blogs!
Interested in sponsoring or swapping ads with You Are The Roots?
Click here for more information!
Enter code HAPPYHOL20 for 20% off all ad sizes, through 1/28/13!
buncee® is a whole new way of creating and sharing online and mobile greetings, memories, interests, new finds, business stories and more in a unique, fun and social way. By leveraging the capabilities of online tools and iOS devices, buncee makes it easy for even the most 'non-technical' individuals to create and share engaging and interactive multi-media creations that can be shared publicly or privately.
Our buncee.com web-based platform provides users with multiple easy-to use tools to add personal photos, text, drawings, and online content such as YouTube videos, Soundcloud audio, flickr, Google, or public Instagram images into a digital canvas called a 'buncee' that can be shared among all your social and private networks with just a few clicks.
Our buncee mobile apps, 'buncee bits' for iPad and iPhone, and 'buncee pro' for iPad give users a quick and easy option to create fun buncees on-the-go!
Buncee Gives Back! The creators of buncee were inspired by their desire for a more flexible and creative way to send digital thank you, updates and event follow-ups to supporters of their family's charity, the Daniella Maria Arturi Foundation, named in honor of their daughter who lost her life to the rare blood disorder, Diamond Blackfan Anemia (DBA). It is the hope of the creators of buncee that by building an easy platform for users to enjoy a fun and interactive way to create and share their memories, interests, causes, greetings and more, buncee will become a platform used by millions and in turn help generate proceeds to raise awareness and funding to find the cure for DBA. To read the full story behind buncee philanthropy, and to learn more about DBA, visit the Daniella Maria Arturi Foundation website: diamondblackfananemia.org.
Try buncee today and visit them on Facebook, too!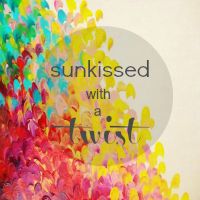 I'm a sweet southern girl that hails from the great state of Texas. I am majorly obsessed with traveling, hiking, swimming, soaking up the sun, eating great food, and drinking good wine. I am completely and utterly captivated by the ocean and the outdoors.
Stop by 2true and take a peek at the assortment of hair accessories. From lacy and feminine to biker chic; all headbands are handmade and designed with your comfort in mind.
Check out 2trUe on Etsy and Facebook to start shopping! (You'll want to. Trust me. These are the cutest headbands I've ever seen!)
Any Momma knows the excitement of finding out you are expecting and wanting to get the baby's nursury beautiful, and just right. Here at HEARTforARTnameSIGNS we totally understand how special it is to add a personal touch to your little ones bedroom. These name signs can grow up with your child as personalized decor in their room all the way into preteen years. It's intact design is perfect for simple relocation of letters that are always straight.
Visit HEARTforARTnameSIGNS on Etsy and Facebook, too!
Wifehood. Mommyhood. Work...hood? I'm a 20-something year old balancing all of the above with a sense of humor and faith.
Check out Oh That Emily (and visit Emily on Facebook, too!).