This past weekend was a fantastic one!
Victoria from Adventures In Mommyhood
invited a bunch of us to stay with her and we had a Disney weekend! I only live 4 hours from Disney World -- and I actually lived in Orlando during college -- but I haven't been in years and years (and years). Disney World was so much more fun than I remember it being this go round, namely because we had so many cute kids with us!
Here are a few of my favorite pictures from this weekend on our mom (and mom-to-be) getaway! If you don't already know Victoria or follow her blog, you most definitely should: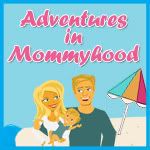 --



I just had to share! The night before Disney, we got the kids matching pajamas. Could you not just die from the cute?



Victoria is expecting just a few days after I am! Our babies-to-be needed a Disney photo, too!


Such a great weekend and such a nice getaway with such awesome people (and cute kids!). I'm now looking so forward to bringing Ethan back for his first Disney trip, complete with his first pair of Mickey ears, too!
Also, keep checking back because I have a special giveaway coming up on Tuesday morning. It's one I'm really excited about so keep on checking back for more updates!